Products used:
Vibrant Splatter in White, Black, Green, and Blue
Matte Top Coat, 
Paint in Derby
When the word free is included it carries an added pressure to not disappoint the gifter. I often take these pieces and allow my artistic side to take over. A few months back I got the free offer. WOOT WOOT!! I was told is was simple, but all wood.
I picked it up, great solid wood construction. Her mother in law had painted the drawer interiors yellow inside and out, but otherwise it was in great shape. Thankfully they left the exterior in the original wood!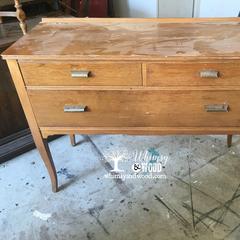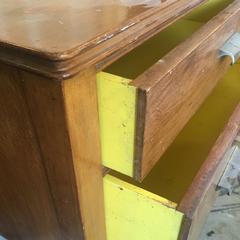 At first I painted it all black….but, this just felt so basic & boring. After all someone had bold ideas for this piece. Yellow is not a basic color. Stenciling crossed my mind…Then I gave myself permission to get a little crazy with the piece. I decided to use my Kristi Kuehl Pure Home Paints Vibrant Splatter Gel Paint.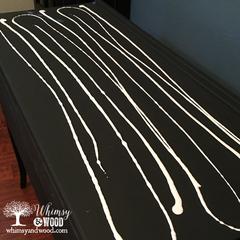 The first thing that I learned in this process is that I am a fan of control. Second thing I learned is how freeing giving up some of that control and going with the flow can be. This did come after a mental break down and then 2 re attempts…and a few Red's Apple Ales. I view the whole process as therapy.
I started out on some sample blocks… seemed easy enough. Then I shook my paint bottles and squirted paint out onto my perfectly painted black buffet. I literally used my hands to spread a base of white.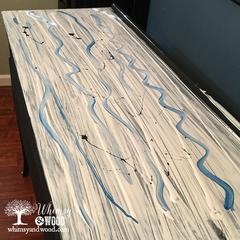 Then added a some blue & black. Then took a brush and smoothed that into long lines… then redid that whole process with more of a green…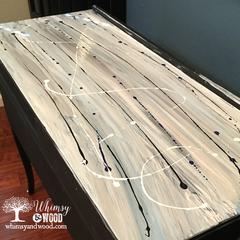 Then redid that whole process with a more of a dabbed on technique that used plastic wrap as the application method…Then freaked out and tried to scrub that whole layer off…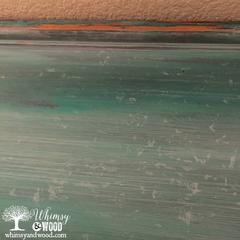 then fell in love with the messy stipple that I could not scrub off…then scrubbed harder to remove some paint down to the raw wood in some areas… Then loved it's chaos…I wonder if some of our greatest artists felt this way as they worked? (not that I am comparing myself to Picasso)  Sometimes the creative process really feels like a series of great I am so excited about this idea….oh crap this is awful & I am such a fraud… oh crap how do I fix this… to holy moley! I really need to trust in the process because this is fricken awesome!!!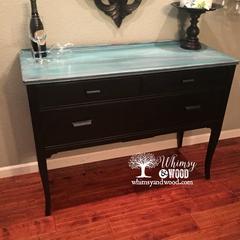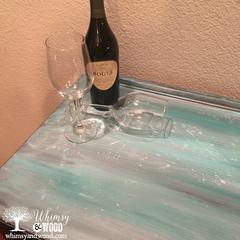 The Vibrant Splatter gel stain/paints are a great way to create a one of a kind look! I am looking forward to trying new ideas with them. Although I cannot lie, part of that trial is looking at ways to create specific looks…with some control involved.
I am curious, would this look have any place in your home? Comment below to let me know.