Cable Spool furniture done right.
This cable spool is now a high end patio bar with a working Kegerator & wine storage.
Cable spool patio set may sound like you rolled some hunk of junk home and put some chairs around it. Not it this case! When I started on this project I knew I wanted to turn this giant cable spool into an industrial patio table. It can be hard to see a cable spool anything other than industrial. Industrial is so hot in home decor right now. I wanted this set to have a high-end trend setting look.
DIY Supply List
This post does include Affiliate links to tools and items used in this project.
Cable Spool check with contractors, new home builders, electric company, Craigslist
EMT pipe electrician supply
Kristi Kuehl Pure Home Paints Products used
Spar Varnish if for outdoor use
Tools
 

What to do with a giant cable spool
Starting out I knew I wanted the cable spool to be a patio set. I knew I wanted wine storage, and I knew it was going to be heavy and need locking casters to be able to roll it. I had a friend helping me with the welding, he stopped by to discuss the plans. Then he tossed out the idea that took this cable spool to the next level.
Casually
he says, "Hey, this center hole would be a great place for a beer tap." Ummmm, Heck yeah it would be. My husband looked at me and knew the wheels were spinning to come up with the how. He told our friend, "You have no idea what you have set in motion." He knows me so well! Insert Big Puffy Heart Emojis here:)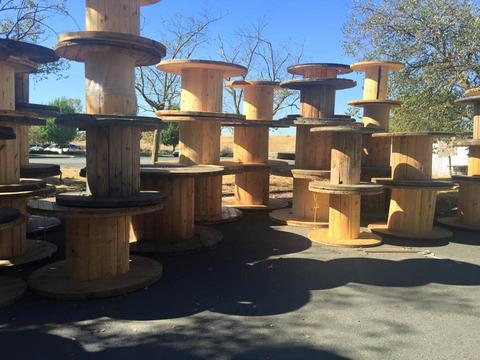 How to cut the cable spool down
This cable spool was huge! The kind of huge that required a forklift to put it into the back of my truck & then dented my wheel wells. I suppose that is what trucks are for. The spool had a 55″ diameter top & bottom. Perfect for a family sized outdoor table! The size was great for the top, but I needed to cut down on the bottom half.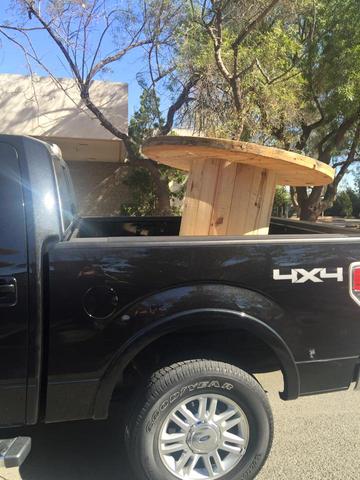 I flipped the cable spool onto its top & marked a circle for where I wanted the new edge to be. Since the center of the spool is a giant hole. I
temporarily
nailed a wood block over it the void. Next, I measured from edge to edge of the spool and found the center. I marked it on the wood piece that I had nailed in place. Using a string as a trammel I tied one end to the nail, and one end to a marker and marked off my new circle. This would be my new edge once cut. You could also use a straight wood block to do this by clamping a pencil to one end and a screw to the other. The string gave a little more flex than I wanted.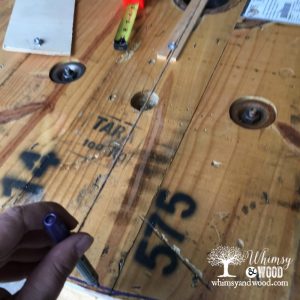 Making the Cut
There are a few options that would work for this trim down. I used my Ryobi Reciprocating saw. You could also use a jigsaw & have a  little less sanding afterward. I did not have an appropriate blade to use the jigsaw and didn't want to run to the hardware store.  Next, I used my
belt sander
to go around the table and even out the cuts.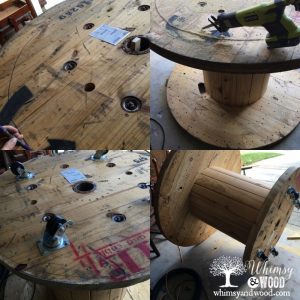 While the cable spool was still upside down the locking casters were screwed into place. Make sure you choose casters with the correct weight allowable for your project. Also, get casters that lock in place. When done, get some help and flip the cable spool over.
Adding Doors and Windows in Cable Spool
When the cable spool was back to upright, I marked and cut out a window to hold my metal wine storage rack. For this part, I did not need the wood that was being removed. I drilled a hole in the pine slats inside of my cut line. I only drilled into the area that would soon be waste cut out of the project & no longer needed. The cut will depend on what size your wine storage will be. Our metal wine storage rack was 10 feet
EMT conduit pipe section
cut into 10 equal sections. (EMT looks like a thin pipe with a 4″ inside diameter) I then had them stacked 2 wide and 5 high. Our friend welded them together to make the wine rack insert. We added a metal strip to the back of the wine rack to keep the bottles from falling out the back side.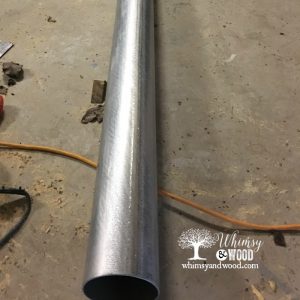 Adding the Kegerator meant needing a place to store the keg. On the side opposite the wine storage, I cut out 3 boards a little taller than my pony keg. Boards were secured to each other with mending strips to make a door. I added Gate hinges and a gate lock to help it function as a swinging door.





Cable spool Keg Conversion Parts
Can you believe the pieces to make this cable spool into a kegerator already existed? A little bit of searching on Amazon turned up some great keg conversion products.
This is the
draft tower
with lines and gauges that I chose for the beer and the CO2 tank. In planning, we had toyed with ideas for an ice bath to keep the keg icy cold. Then, Google search magic happened. I found a system that had a
re-freezable ice blanket
and a
neoprene insulator sleeve.
The ice blanket wraps around the keg and the sleeve goes over it. This set up is for an event and will keep it cold for many hours.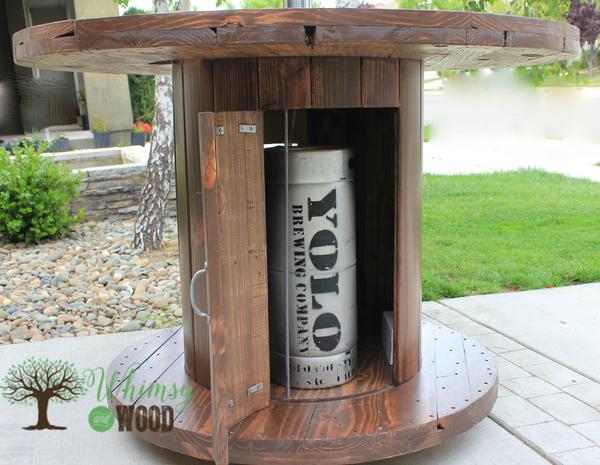 Thank you, Yolo Brew,
for the great beer to try out our creation!
This is one of my favorite Upcycles or builds yet. It
really
came together well. Let me know what you think by commenting below. If you have done something awesome with a cable spool I would love to hear about it!