Have you ever had a great idea, then checked Pinterest to see if it's posted there yet? I totally do this & every once in awhile I find a gem that I can add to the most amazing DIY Hub ever.
Now, I refuse to believe that these nuggets aren't there because no one else thinks they are as amazing as I do. Forever the optimist I get super excited and try to remember to take picture as I plod through my project.
I will admit, not everyone is going to want Paint Can Pendant lights in their space. But, it is a great low cost, fit for paint retailers! (like me). Lighting is so important when you are looking at paint colors and my studio needed  better lighting near my paint display. DIY Paint Can Pendant lights were a perfect fit!
Supplies for DIy paint can pendant light
Our DIY Paint Can Pendant Light post does contain affiliate links. We make a small commission from purchases made from these links at no additional cost to you. Disclosures 
Start by taking the lid from your paint pail and marking the center. I eyeballed this part.
Next, take the pendant light you are using and position it on your paint can lid centered. Center of your pendant light where the light bulb screws in is centered on your paint can lid. Take a Sharpie and draw that circle in place.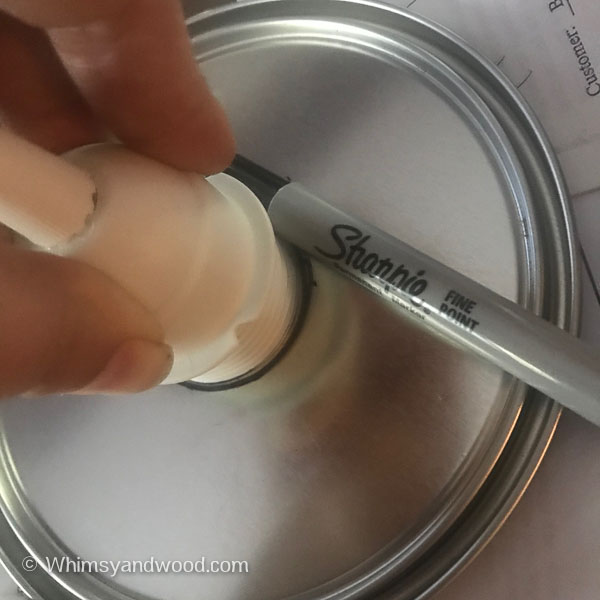 Now you should have a center dot and a circle around the dot.
It's time to put on your eye protection & your mask.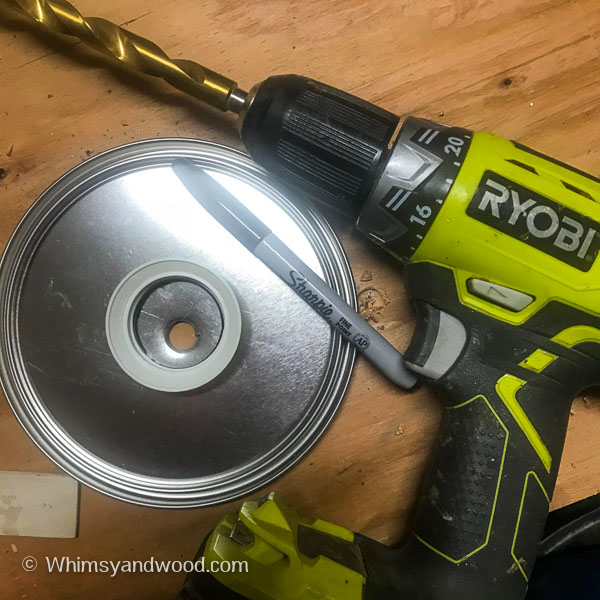 Grab your drill with the metal drill bit. I used the largest drill bit that I had. Do this with a piece of scrap wood underneath your paint can lid. When you go through the lid you don't want to ruin anything valuable underneath.
Your hole will be a little jagged, put on gloves to protect your hands from being cut by the sharp metal. Do not skip this step!! That metal can slice like a knife.
Now, using your tin snips cut from your center drill hole out to the circle. We are going to cut the circle out. Try to stay just on your sharpie line. It is easy to trim a little more later if needed, but if you cut too much your hole will be too big for your pendant light. I had left cut tin snips. You will have to follow the direction of your snips right or left. This project is better not to use the straight tin snips.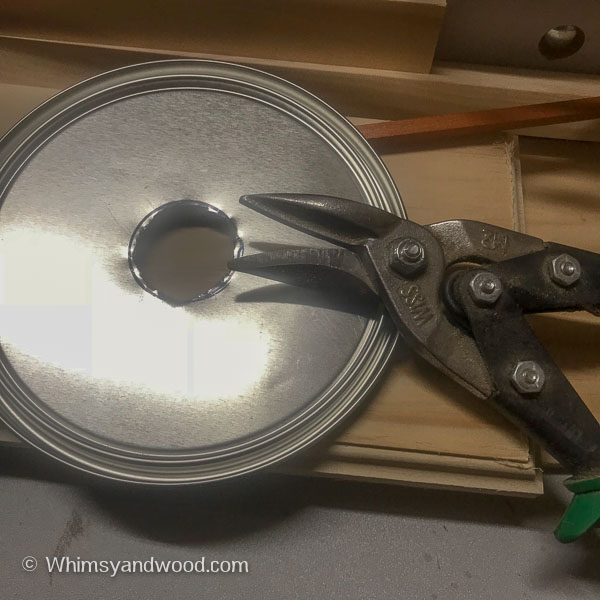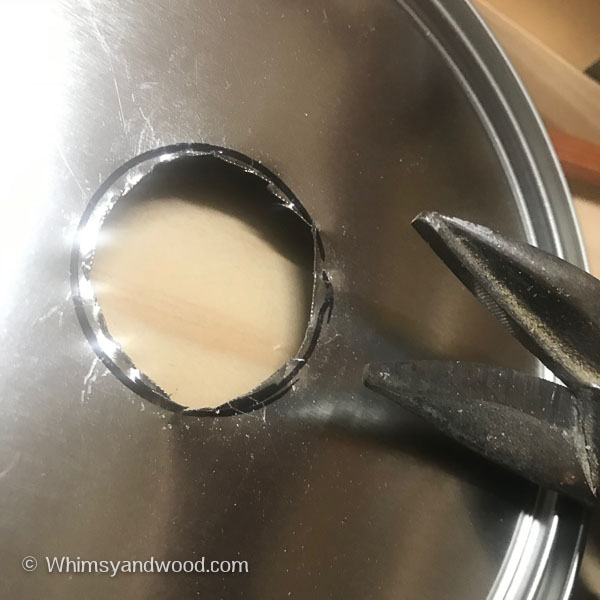 Again, the new hole and any pieces of metal that fall off will be very sharp. Do your best to contain them and dispose of them safely. I definitely did this project barefoot and had to pull a sliver of metal out of my foot. Learn from my mistakes! You can use a metal file to dull the cut edges of your hole. I did not because once my pendant lamp was in place the sharp metal was not an issue.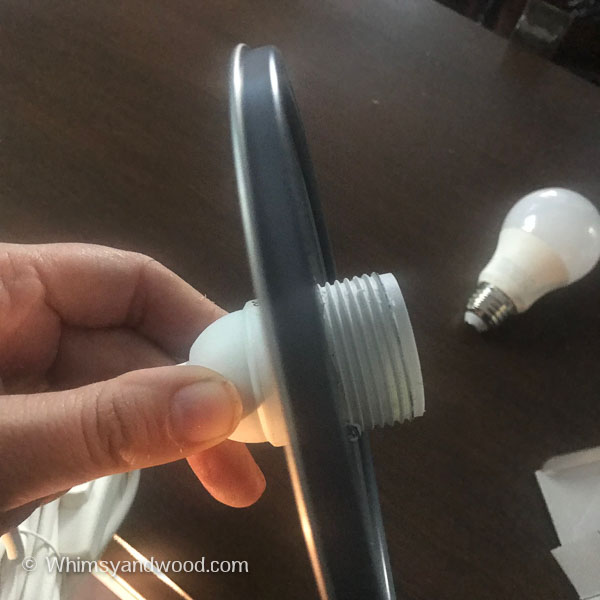 Next, I took my pendant and actually screwed my lid onto it, the hole was just tight enough to work its way up the threads which made it a great fit. On one of my three lamps, I cut the hole a little bigger than my pendant threads. I just pushed the pendant through that one. It was not so big that the pendant went all the way through, it still had a lip that caught it.
Take your plastic ring and screw it onto your pendant from the other side. You will sandwich the paint can lid between the ledge of your pendant light and the bottom plastic ring. You can screw in your light bulb and set this aside for now.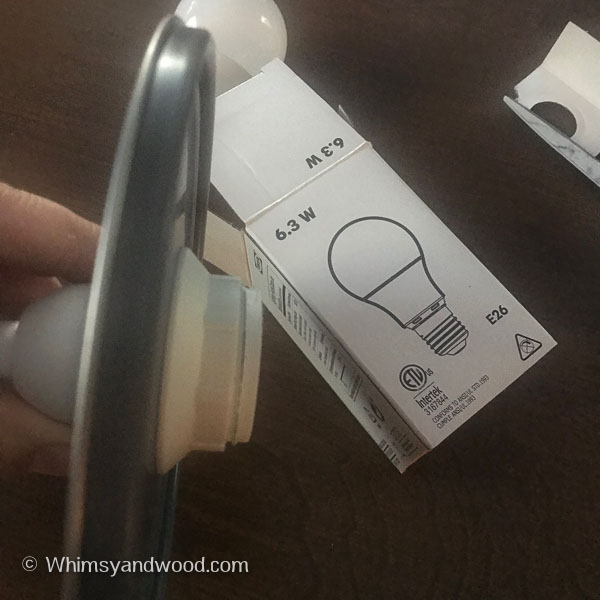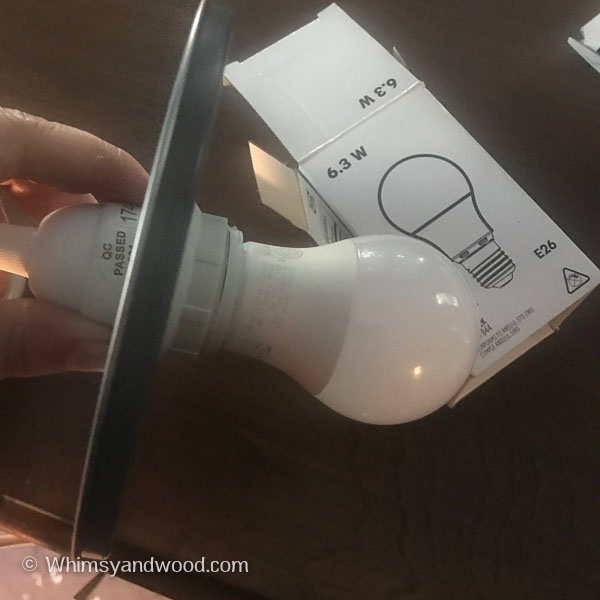 I was so pleased when this next part went easily.
Take your basic hand turn can opener. Not the fancy Pampered Chef opener that separates your canned corn at the glue line. You need the good old fashioned puncture type can opener. Use the can opener on the bottom of your metal paint can. Puncture and turn the knob until your metal paint can have the bottom completely cut off & throw the bottom piece away.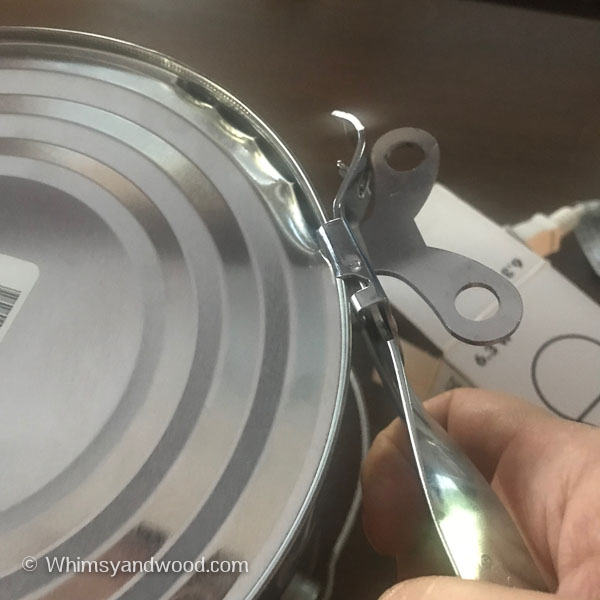 Now to put it all back together. Put your paint can with your cut bottom side down. Take your paint can lid with the pendant set up attached to your paint can. Use a hammer to hammer your lid onto the paint can. Hammer enough that the lid works its way into the groove on the paint can, but not so hard that you dent and damage it.
If you want a minimalist industrial look then consider yourself done and hang your DIY Paint Can Pendant Lights from screw hooks in your ceiling.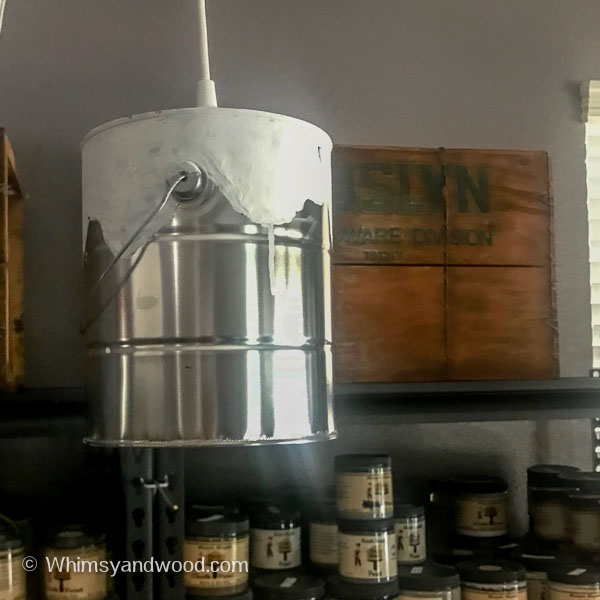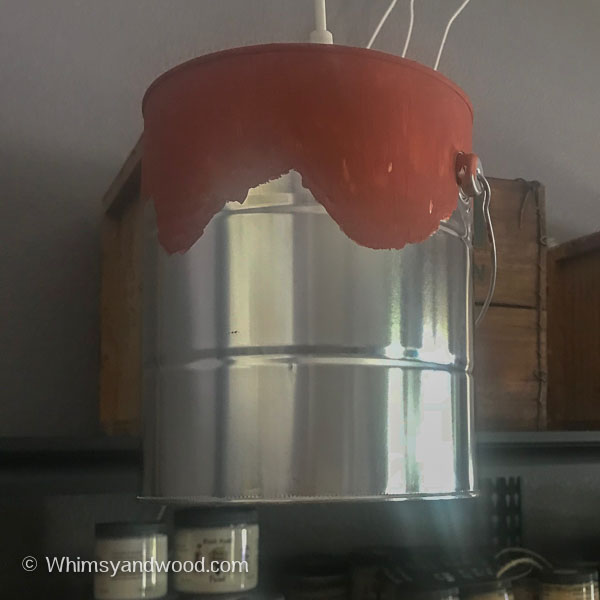 My DIY Paint Can Pendant lights were for my studio and above the paint line I use and retail [Buy your Pure Home Paints Here] Not so shameless plug, but the paint really is amazing! I used my sharpie and drew a basic paint drip area around the top of my paint can. Then I used some of my Pure Home Paints and paint the area to look like every can of paint I have stored in my garage with the drip marks over the side. This finished look was so stinking cute! I still need to tame the spider cords running down the wall, try to act like you don't see those for now.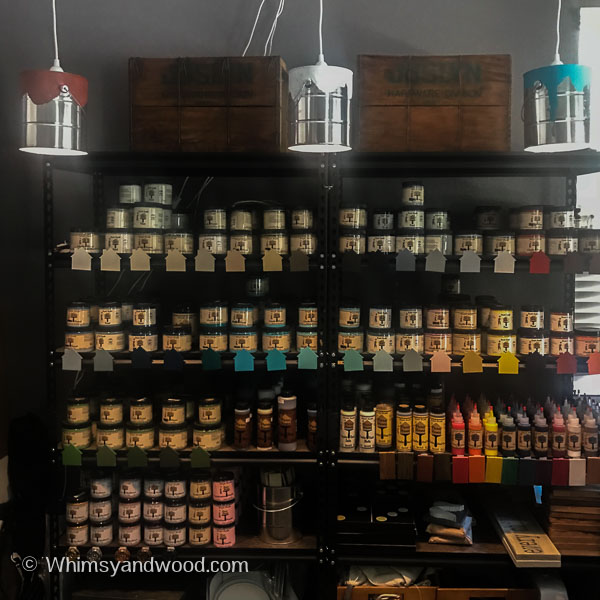 I don't know if anyone else would be looking to have dripping DIY Paint Can pendant lights in their space, but they really do look perfect in front of my paint display. Some other ideas would be to paint the entire can in a color that you like. Less dripping paint can and more finished pendant, or wrap thick burlap ribbon around the paint can for a cute fabric look.
My Studio has a pretty industrial look & most of our items are uploaded See our locker storage here, and our awesome galvanized paintbrush storage below.