If you follow us on Facebook, you know we have been busy working on Becca, my 9 year old's, room. It all started with a bed that was gorgeous beyond belief and so perfect for my girl. This little lady goes on trips all over to pick up furniture, fetches my paint, brushes, sander, tools, tape measure, she just does it all. You can see the bed that started it all here. I stumbled on this bed online and had to get it for her!
I had a french provincial dresser in stock that was just elegant yet simple enough to work with her bed without making the space overwhelming.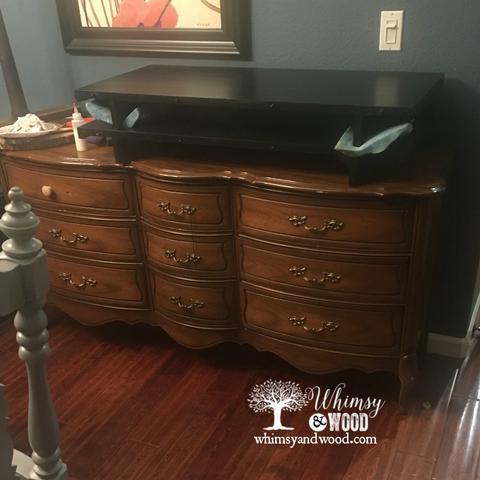 Becca has great taste & chose a pale lilac color for her walls. It was just tinged lilac, otherwise it was almost a white color. I had just finished a Eggplant colored buffet that was gorgeous and we adapted the custom color from that piece. Slightly less purple, but equally beautiful. You can see the buffet here. It sold before I finished posting.
Our mix was almost chocolatey purple. Not sure if that makes sense, but that is what I see when I look at it. I love the hue it brought out. The dresser is elegant and I believe this room will be easy for her to grow in.
We updated the hardware from old bronze to a pewter look. by brushing with 2 coats of Tahoe, and a wipe of Onyx Metallic Opulence. Then finished with Satin Protective Finish
Becca loves Harry Potter! She was heartbroken the day she finished the last book. I decided to bring the magic of Harry Potter into the mix in a way that is special, without overpowering the space. Using Mod Podge & the pages from a copy of the first book I decoupaged the magic onto the drawer sides.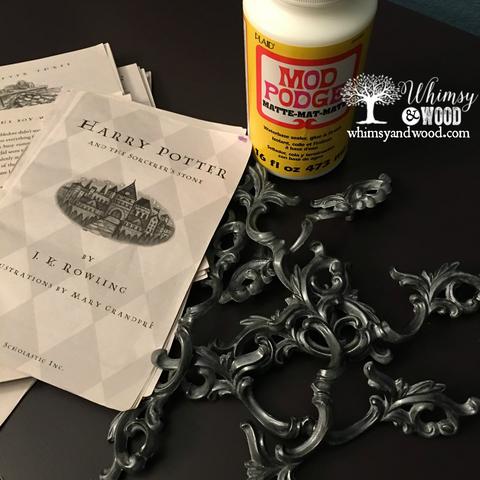 The pages cannot be laid out in a way to be read. I focused on pages that started a chapter. These show a picture & the chapter title. I also included pages like Harry's acceptance to Hogwarts letter, & his list of items to pack for school. I wish I had captured her smile when she found those. So special!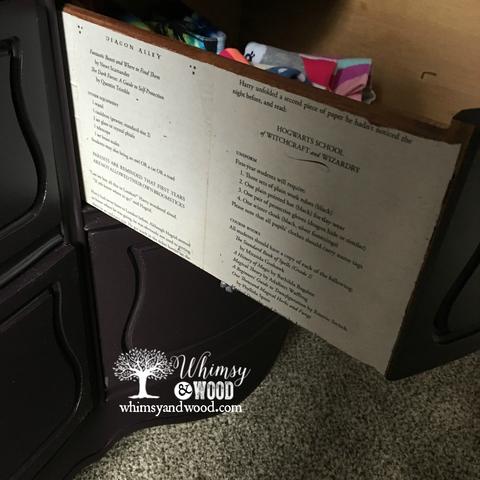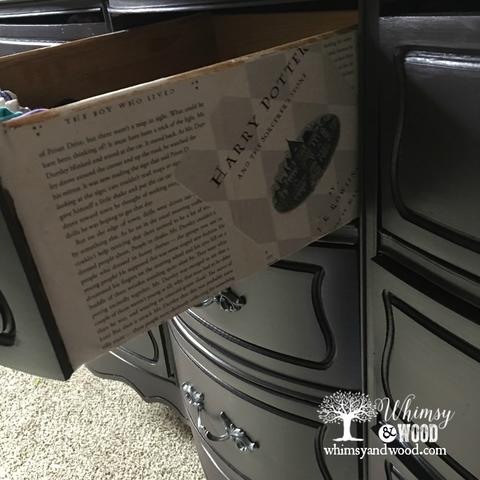 Along with the color update we switched to folding our clothes (hers only so far) using the Konmari method. This year I am working on getting my spaces purged of the things that we do not need or love, and so far this folding method is amazing! I encourage you to read her book, or at least look up info and watch some youtube videos on this.
Here is our final dresser. Since Dad could not beat mom's furniture updates, he did add a TV to the space. It may be a waste since she reads for about an hour a day, but it definitely got a big WOW from her!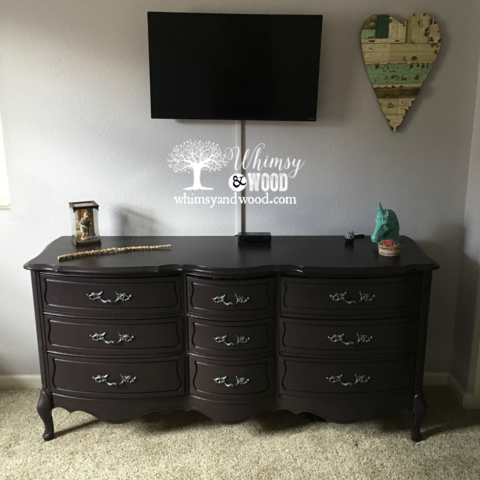 As soon as we get our bedding in & Becca and I work on her art work, we will share more of the final images.
Pinnable image here: