Is it me, or is the classic Red Buffalo Check Plaid print everywhere you look?
After seeing it splashed here and there. On ribbons, blankets, flannel shirts, and Christmas pj's. I decided it would make a really cute family holiday sign.
I added a little video here so you can see how I made this buffalo check plaid background. Part of the trick is the rotating of the sign and painting in alternating directions. The brush marks help give it the fabric buffalo check plaid look. It may be a little less work to go buy some fabric and screen print your sign on it…but, you know me, I am all about the paint.
Supplies Used
Links will take you to items for sale in our shop, or to affiliate links of companies we order from. Affiliate's pay us a small commission
Kristi Keuhl Pure Home Paints
Clingon! Paint Brush (Any paint brush will do)
Frog Tape (choose the size that will make the size stripes you want.
How to Paint a Buffalo Check Plaid Background
Step 1
Paint your base color on the entire board. On this sign, we were going with a red buffalo check plaid. You can use alternate colors. Start with the lightest or brightest and build from there. For this example with Razorback Red, it is a bright primary red. Get a good solid coverage with this color.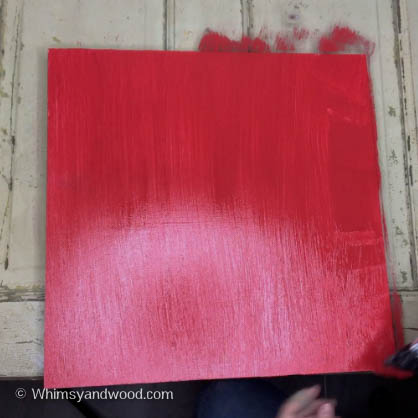 Step 2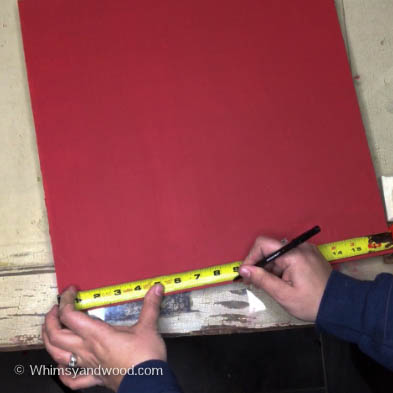 Measure and mark the center of the board at the top and bottom of the sign.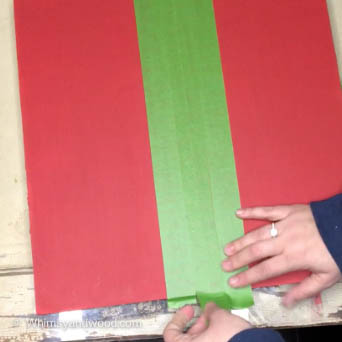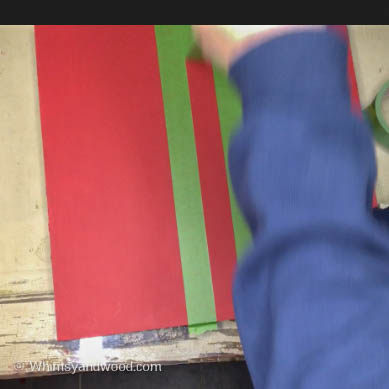 Stretch your first piece of tape, centered on those marks. This first piece is just a placeholder. Get it centered and straight & it will provide the guideline for all of your lines to be straight.
Line up a piece of tape to the right and to the left of this first tape piece and smooth flat.
Once those are in place peel the original, centered tape & move it to the opposite side of your left tape line. Line it up & smooth it down
Placeholder lined up, add your next line to the left of your placeholder tape. Continue until you reach the end of the project board. Then peel up your placeholder and repeat all steps on the right-hand side. Only lining up your placeholder to the right of your first tape line.
Once all tape is in place & smoothed down, paint your first accent color. For this color, I used Cranberry Bliss. You could easily take your original red color and add a little black to it.
Paint, allow to dry & peel up your tape lines.
Step 3
Rotate your board 1 turn. your vertical lines should now be horizontal.

Follow the steps 1-5 above. DO NOT FOLLOW STEP 6 from above!!! We will be leaving this 2nd set of tape lines in place.
In our video, we add a little more black to the Cranberry Bliss. This is not necessary. You can add it or leave it out. Buffalo Check plaid is traditionally only 3 colors total.
Step 4
Turn your project board 1 turn again.

Remember, you are leaving your tape in place from step 3.
Next is to add tape lines to left and right of center just like in our original step one. You can do this using the taped placeholder again. I skipped the placeholder tape and used the edges of my original lines to carefully set up the next lines.
You will have a grid horizontal & vertical tape lines.
Next paint the open spaces using Derby or any black paint you choose. 
Remember to paint in long lines. Using only one direction for your final pull. This helps to create a little bit of a fabric look as we are turning the board and have the lines crossing from previous steps.
Finishing up
Allow your project board to dry, at least a little;)
Pull up all tape lines
Tada! you have a Buffalo Check Plaid Background.
It is a bit of work to get this background, but it really is such a fun piece!
I sanded the painted buffalo check plaid background & then painted my sign over the plaid. By the end of the process, I probably could have made 3 signs for the time it took.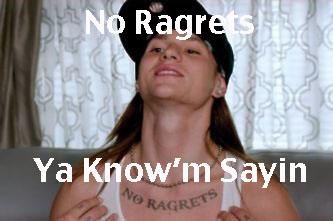 No Ragrets, I love how the background and this sign turned out!