Scrolling on FB and I Found This Antique Vanity
Yes, Yes, Yes I want it! I promise!
OMG You Guys!! This antique vanity is so pretty!
I was so sure that it would disappear before I could get to it for pick up. If you have ever shopped on Craigslist or in Facebook sales groups you may know what I mean. People can be super duper flakey and no matter how nice you are…they are also scarred and afraid that you are super duper flakey!
I found this vanity in the Facebook Marketplace & need it or not…I wanted it.
Now, if you have an old beat up, solid wood dresser more than 50 years old you can become very popular in the Craigslist & FB sales world.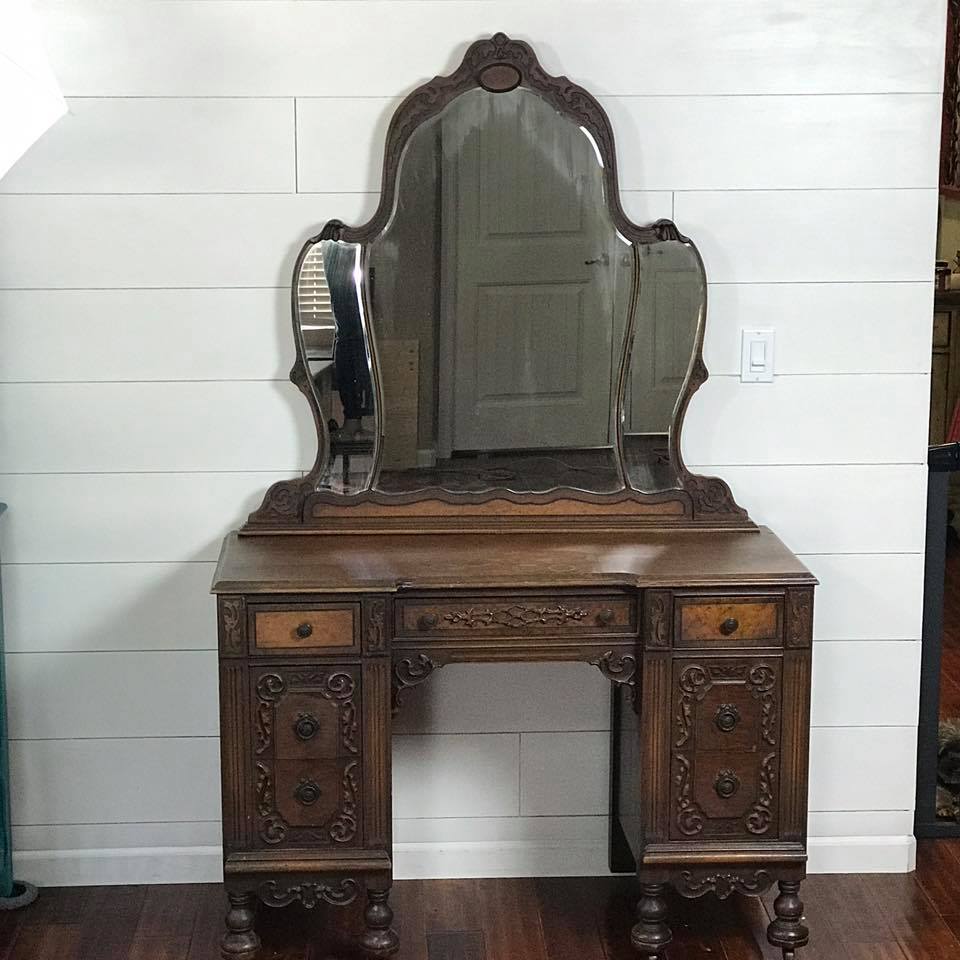 Post contains affiliate links. For our full disclosure read here.
Pure Home Paints Products used:
The Haul for our Antique Vanity
As fate would have it, this seller was one of the good ones. Possibly a dying breed (I live for the drama) she happily held it while I picked up my kiddos from school and headed her way. Long highway, winding hills, cows, goats, sheep, chickens crossing roads (((Have you ever heard that joke))) We encountered it all. Perhaps I was not in as much danger of someone else scooping this vanity up as I thought. Then we made our trip back through the chickens crossing roads, sheep, goats, cows, winding hills, and down that long highway. It was definitely a take out kind of night after all that.
Hunted – ✓ Fetched – ✓ Hauled back – ✓ In n Out – ✓


As always I uploaded this find to my Whimsy and Wood Facebook page (Do you follow us on FB? Please do!! I would love to connect) It was very popular, but no quick takers in it's as was wood look. Looking forward to working on the vanity, I tried to think of the colors for this piece. Over and over my mind went to white. Now to be clear I almost never paint white. It is clean, crisp, beautiful, and I hear it is easier to sell…I just love color.
Antique Vanity Gets Overwhelming Votes for White
I polled my FB peeps just asking if they would go with color or with white. I received a few color suggestion from the crowd, many more votes for white and then a few "don't dare you paint over that amazing wood" 🙁 This often surprises me on my FB page because, I am a painter, and this page is where I share my painted work. If in pristine condition, it's not likely to end up in my shop for a makeover. Sotheby's can keep all of the well cared for antiques.
This vanity is and was an antique, however it had cup rings, and gouges into it's top surface that surpass "patina" and can only be called damage. Even the act of sanding this damage off would take away the value as an antique just like the misuse that resulted in the cup rings took aways it's inherent value. Patina=good Damage=paint or repair.
Should you Paint Your Antiques? Should I Paint this Antique Vanity
I am not qualified to tell you the value of your antiques or what you should do with them. There are some pieces that have a higher value unpainted and especially if they have a good patina without real damage. For me, I find mainly pieces that have been sitting in a garage for a bit and need repairs, cleaning, and sanding to make them desirable. Plus I am a believer that there is value added by creating a one of a kind piece of functional art from a well built piece of solid wood vintage and antique furniture. The value is in the desire of the owner or purchaser. I used to be afraid of this. Then I took note when I painted an antique and then had someone show me pics of the one they painted in their own way.
To paint or not? If you are unsure, then get an appraisal. But an appraised value without a buyer is not worth much to me. The truth is I have held on to pieces and offered them in their as is condition and have never sold a single one until it came up in line and was painted. I am a business and a furniture artist…So I paint the things of all ages.
I am so glad I went with the color I did! It could have been gorgeous in almost any color & it was pretty in it's original wood look.
I wonder what our generation is leaving to the future antique collectors? How much IKEA, Made in China, and mass produced furniture are we leaving behind? All in all, can you embrace that it is great to have 100 year old furniture revived and taken out of garages and put into modern homes?
Now it has been:
Repaired – ✓ Cleaned – ✓ Painted – ✓ Distressed – ✓ Glazed – ✓ Photographed – ✓ Listed – ✓
These are the steps that go into each piece of furniture from the hunt to the "Tada!" is quite a journey!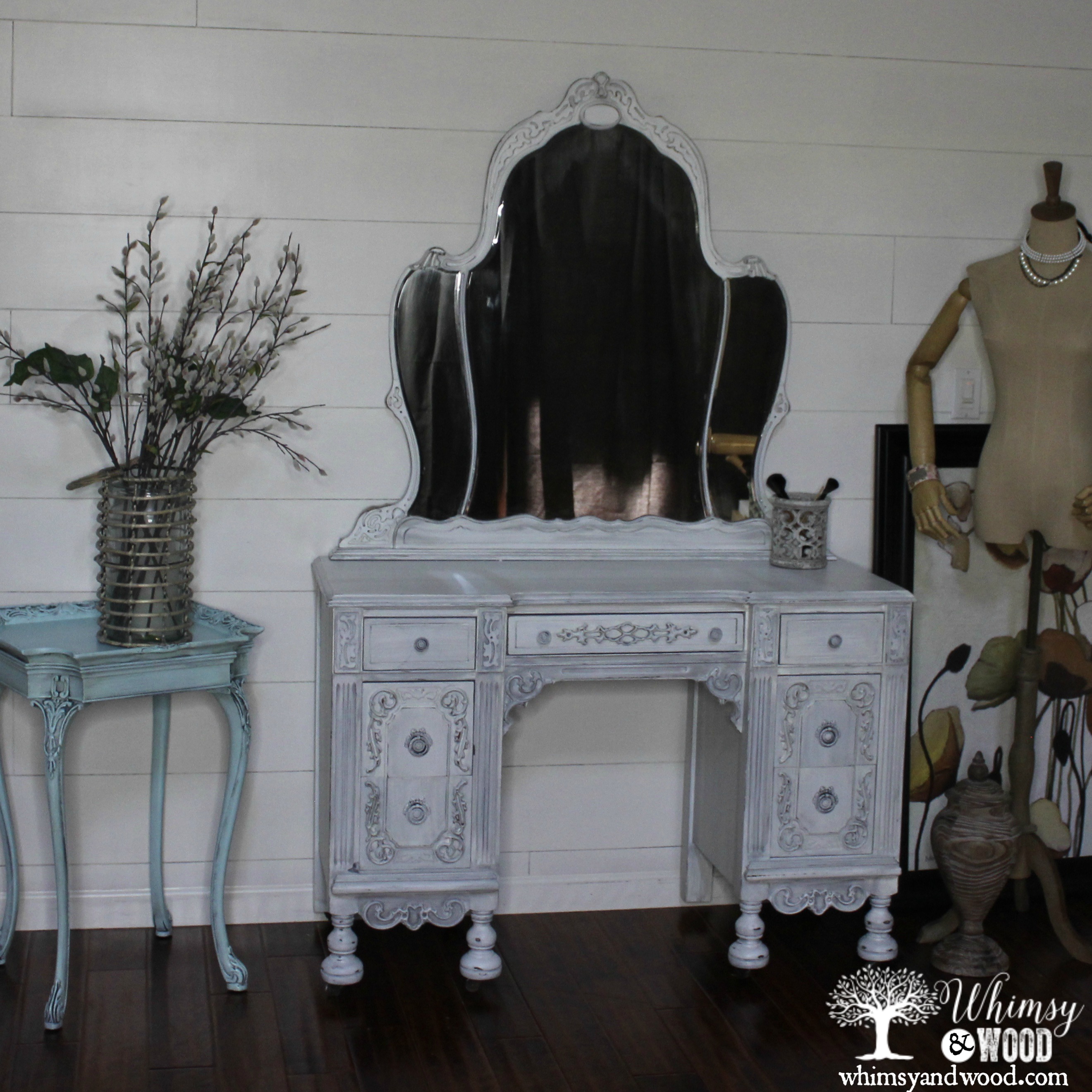 This piece is currently available for purchase as of the time of this posting. You can find it here.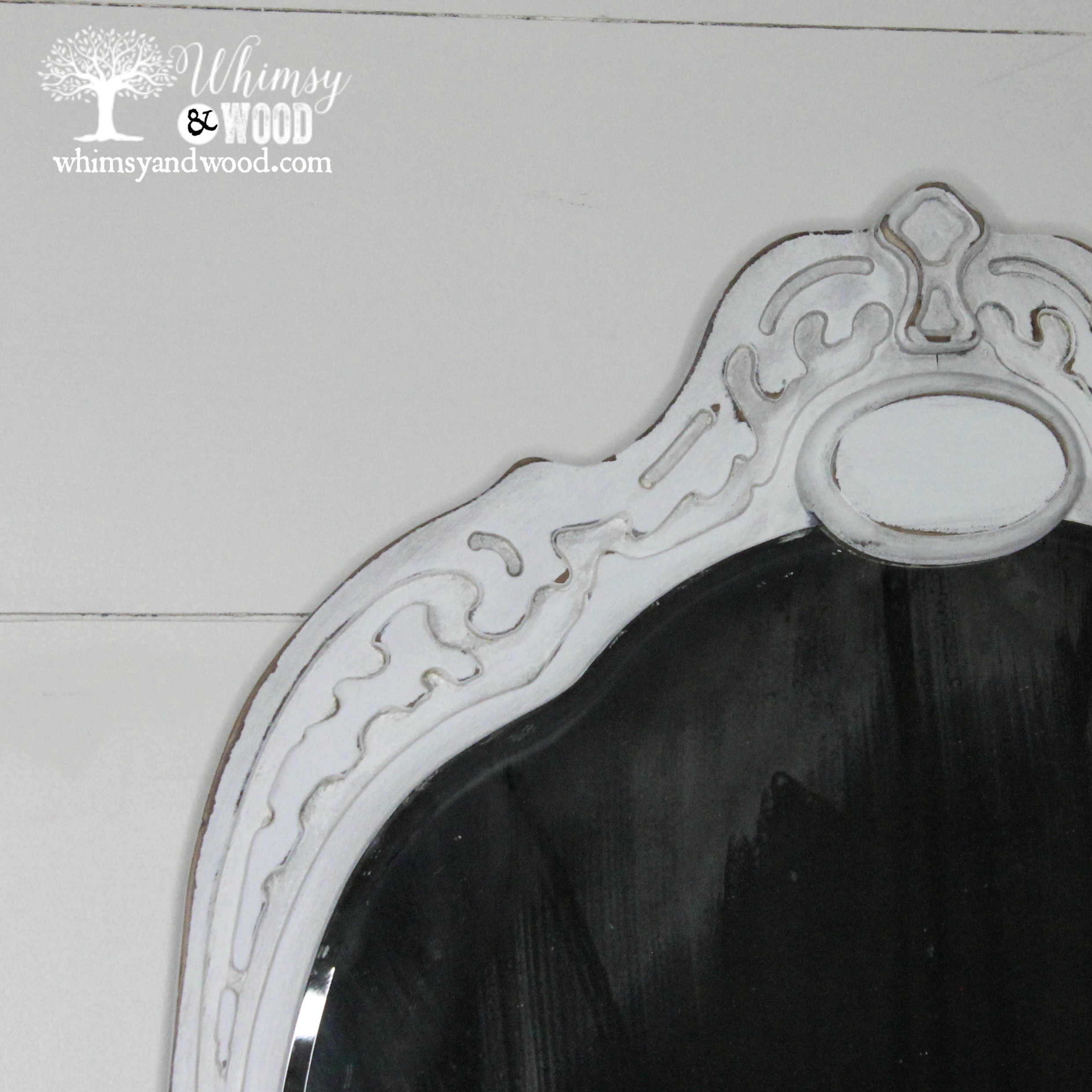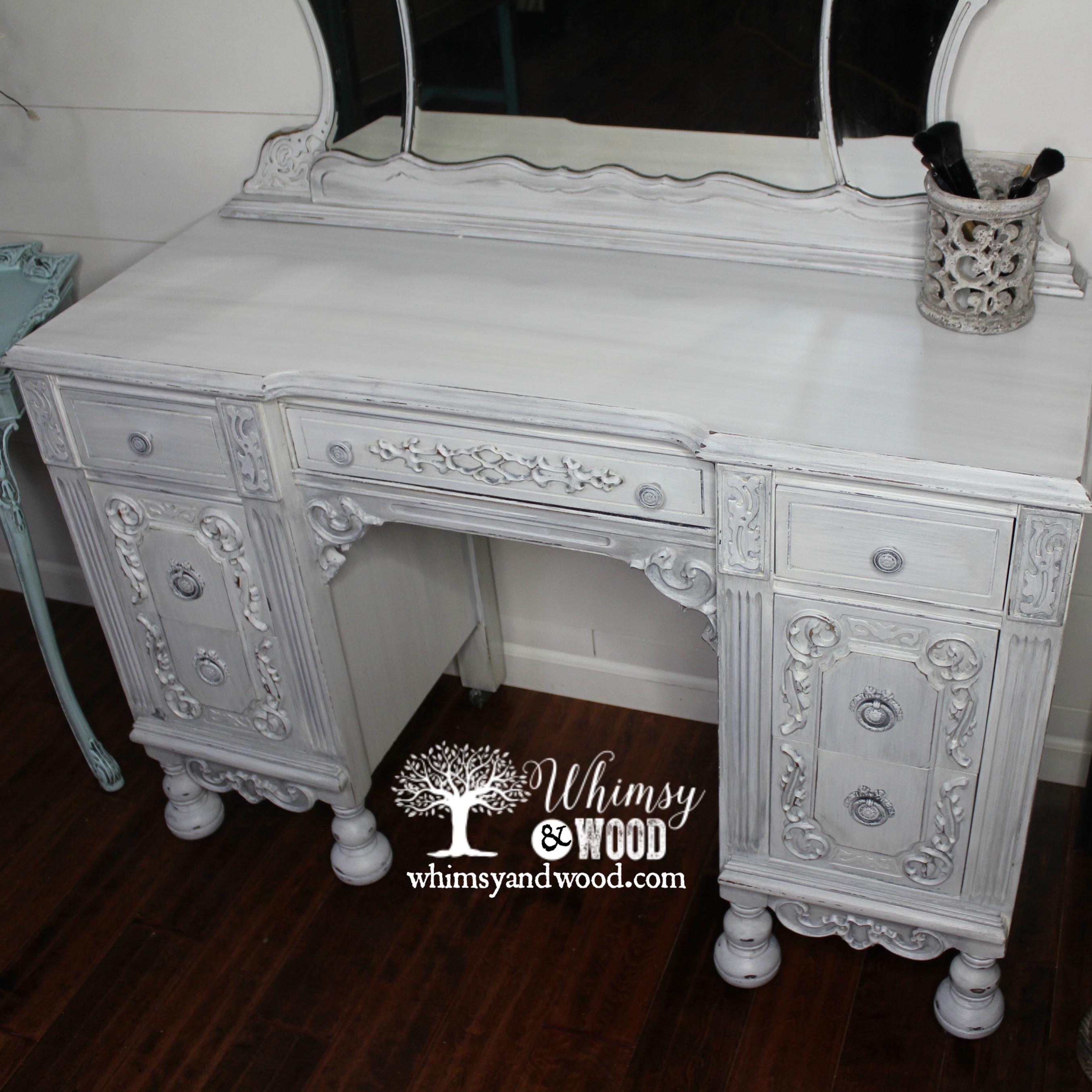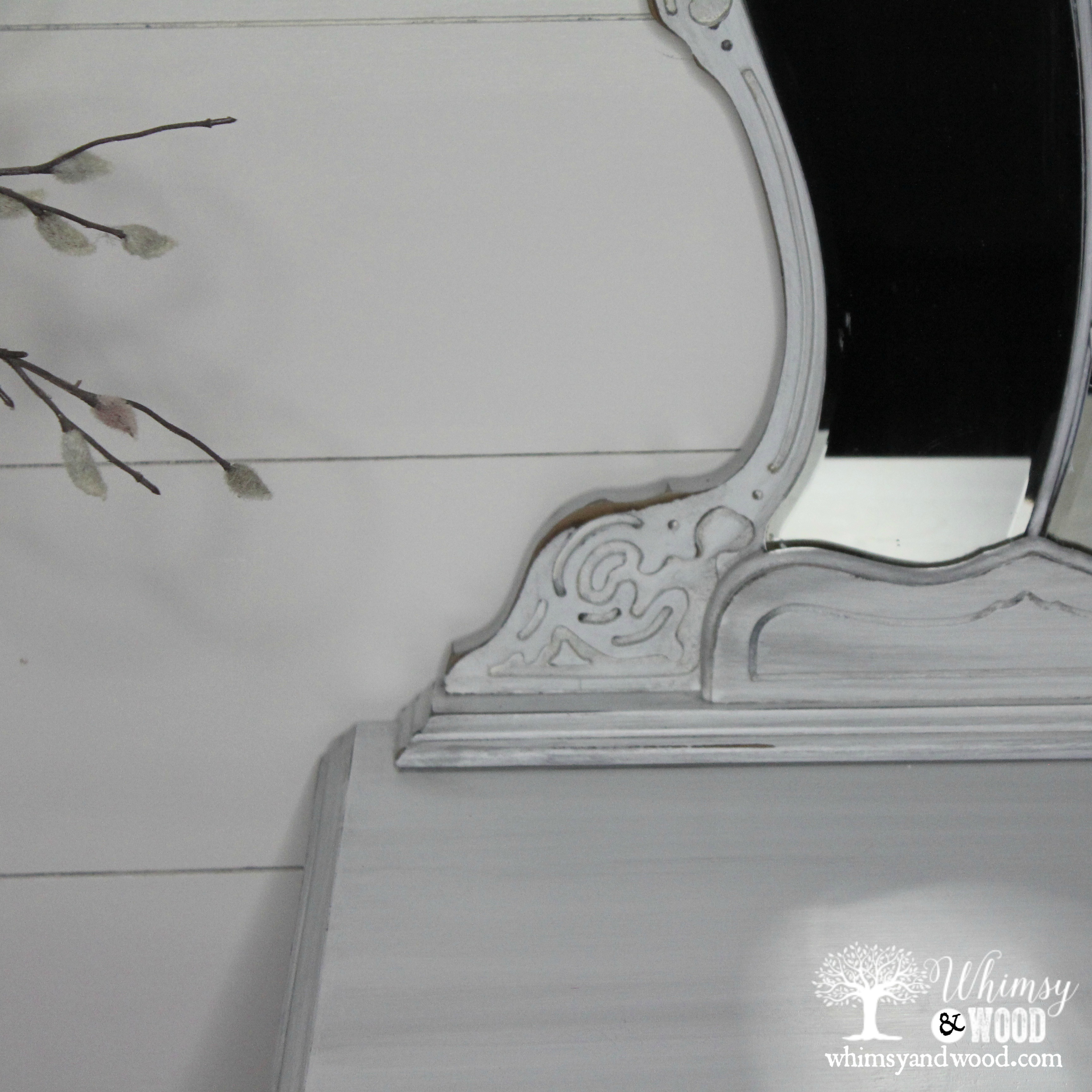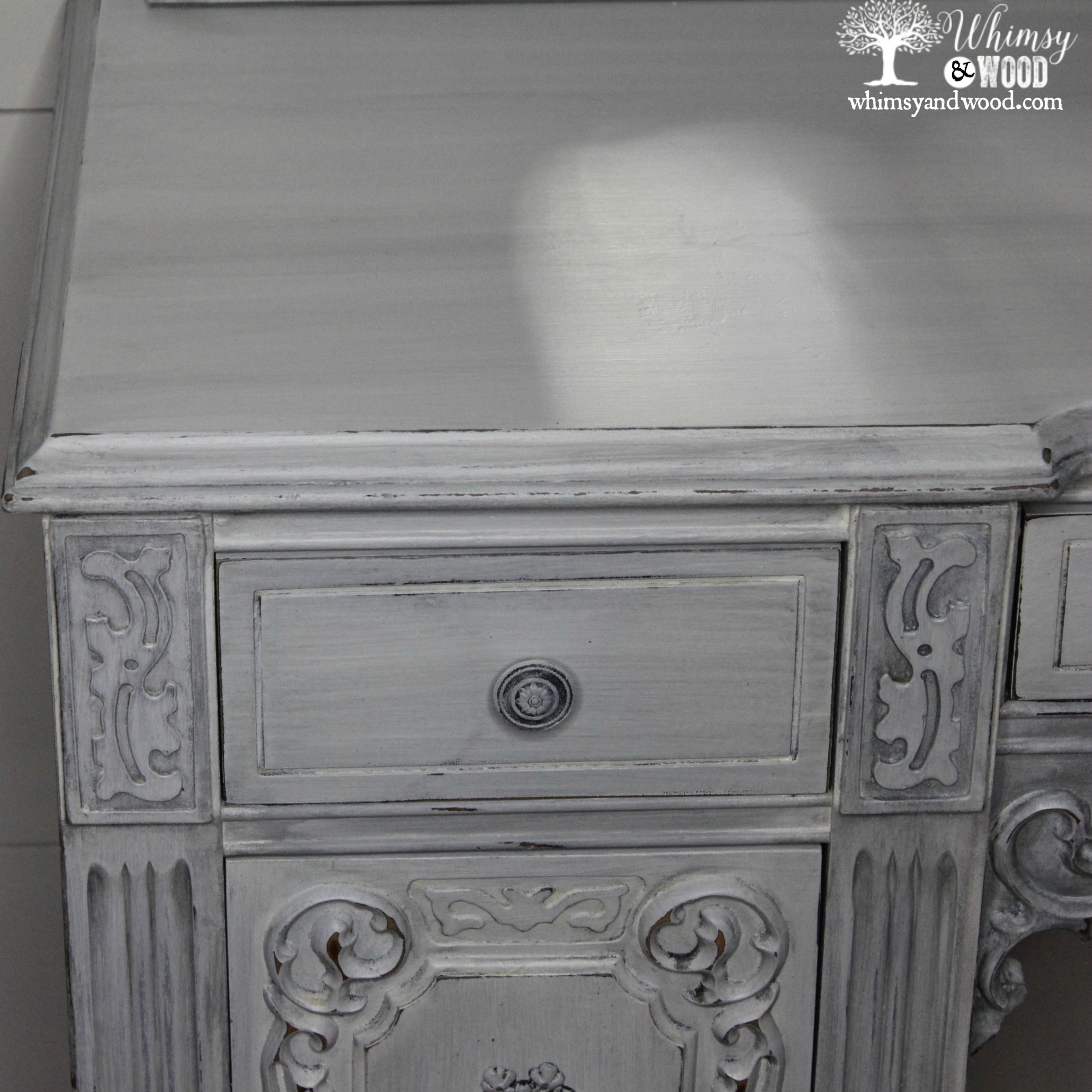 Thank you for visiting! Let us know what you think of this project. If you hate painted furniture, that's okay. We don't mind if you share that as long as you do it respectfully. We are all about love first here at Whimsy and Wood.