Dining Set makeover. We took this dated, heavy, pecan set and using our Kristi Kuehl Pure Home Paints turned it into a chic set worthy of your attention.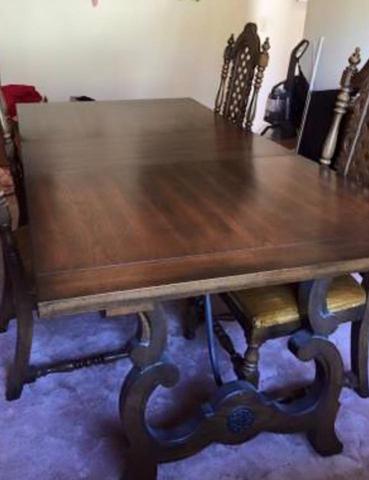 This dining set had potential. Enough potential that I dropped what I was doing and went immediately to see it. I had no movers available to help and took my 15 year old daughter because where there's a will there's a way…Right?? If you have ever moved solid pecan furniture, then you know this may not be true. This set took me, the homeowner and a neighbor to get it loaded up. I guess that still counts as being a way;)
---
I digress a little, I originally showed up to see a buffet listed for sale. When I got there I learned that the buffet included a fab rolling server & a full dining set with the 2 original leaves and the felted padding all for the price I was planning on paying for the buffet. In the world of vintage furniture that is a home run. This set was solid pecan, heavy as can be! 2 trips later I got it all home.
---
Supplies used in this makeover: (*Post contains affiliate links)
The dining set had loads of possibility. I don't know about you, but I LOVE the combination of wood with metal!  The legs on this table were just a beautiful, unique shape and instead of a cross bar they have metal pieces that help support the top.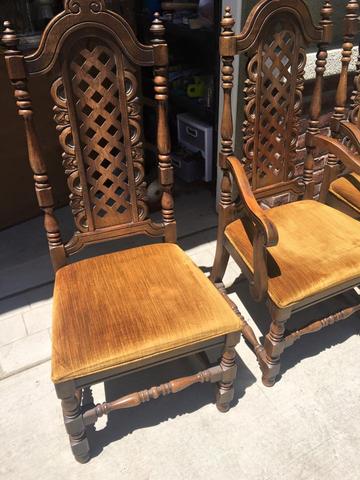 The dining set chairs, I was less sure of. I actually posted amongst a group of friends who also paint asking if anyone would love these chairs if restored. I JUST HAD NO VISION FOR THEM. At the time they were of course brown wood, tall lattice backs, and had mustard colored velvet seats. Gaudy for sure! I could totally picture the 1960's King and Queen who once ruled from them. Are you seeing them too?
A friend who's work & taste I love asked me to let her know if I passed on them, that she would love to have them. I still felt unsure, but trusted her style judgment & knew it would kill me if I let her have them & she rocked them instead of me. (That is my evil competitive side. We try to suppress her)
I painted the buffet first & it sold the same day!
The table sat around taunting me for awhile. When I finally got started I was still concerned about those chairs!
I had my muscle men start bringing my pieces in. Everything was scrubbed with a vinegar & water mixture, rinsed, and allowed to dry. The set was in great shape and had nearly nothing to repair except the seat bottoms. The webbing had become dry and brittle. Much of it was tearing, and the seat padding was just ancient.
Tools for this job included:
Fabric of your choice approx 2.5 yards for this one
(These were the worst seat bases I had ever come across. Original for sure.)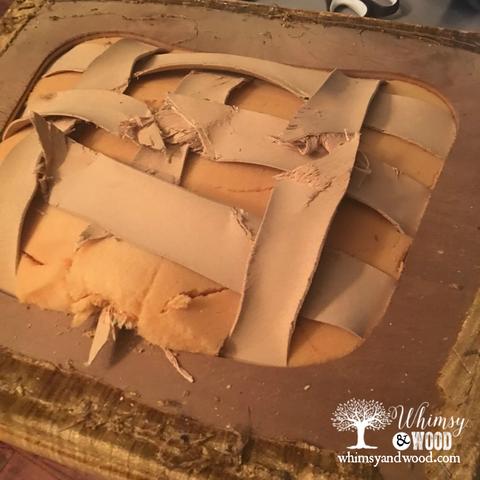 With a glass of wine in hand (and the bottle close by on the counter) along with my fave upholstery tools for removing old staples. I got to removing the old fabric, and the old webbing. For this project I purchased these supplies on line and got right to work. I started in the center stapling and stretching the webbing in place and the weaved it through from the other side creating a new strong seat bottom.  Oh so many staples!!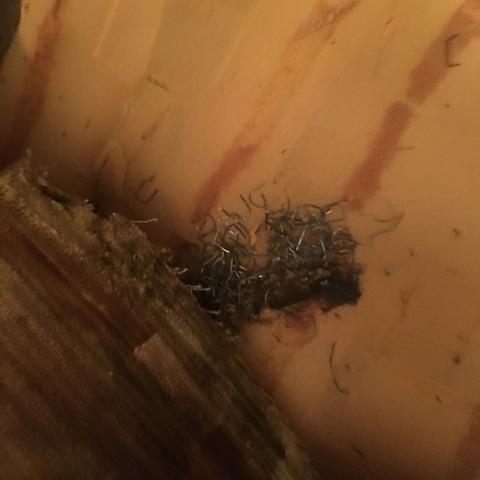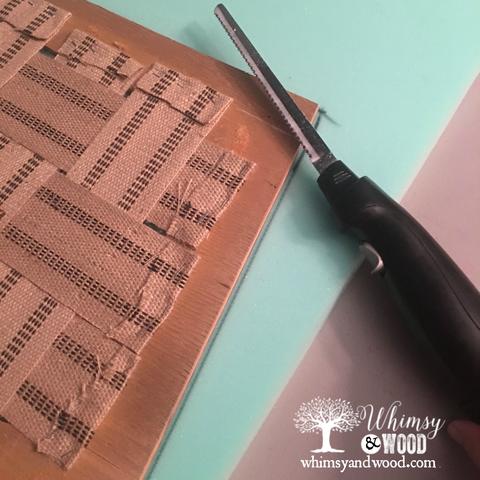 New padding was cut to size using my favorite tool for cutting padding. I know, it's meant for the kitchen…but it is perfect!!! Then I added the new fabric & the new lip cord. I love this fabric! Coupled with the softer paint colors It really changed the whole feeling of the seats! So much lighter and more modern. I love them now & even tried to keep them.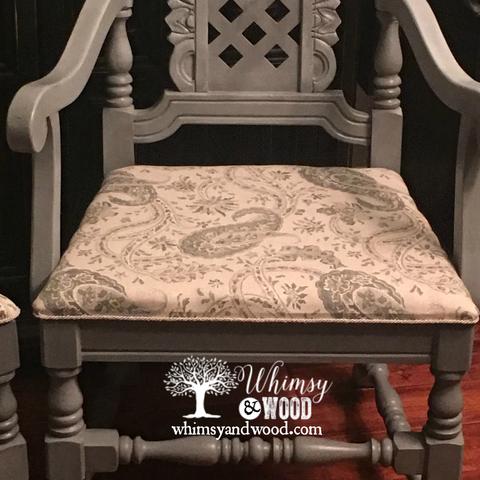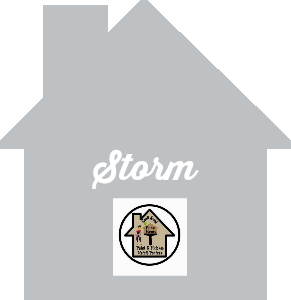 Chairs were painted using the color Storm. It is a light grey and has some bluish undertones. We then went over the paint with our Smoke Glaze. Smoke is a dark grey glaze. Do you love them? They went from gaudy and archaic, to gorgeous.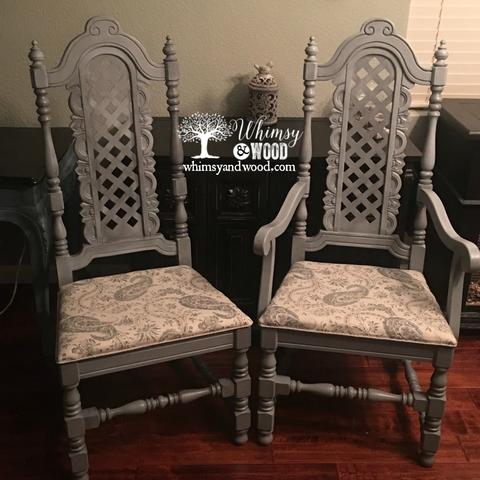 The table legs are also unique and I just love them! They were painted using Derby with matte top coat. The metal parts were refreshed with layers of Derby, Storm, and the Smoke Glaze.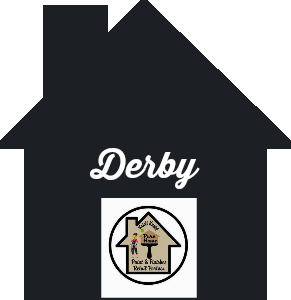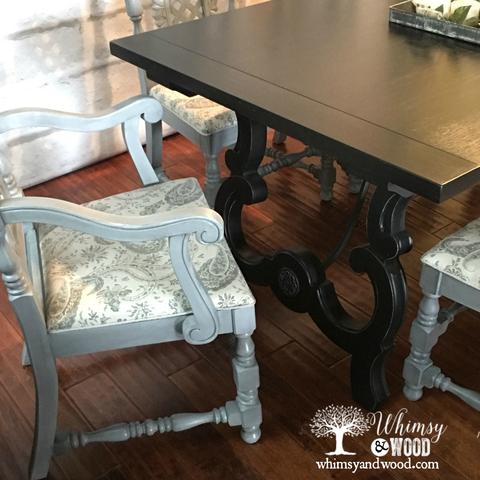 Many times sets are missing their leaves. This one had both leaves and when fully expanded actually measures 102″ long. Can you say PERFECT for holiday dinners?
Now if I only loved to cook…. But, I do love entertaining and we have a huge family. I really was working on pitching the idea of keeping it to my husband. Truth be told I momentarily consider keeping each piece before talking myself into the art of sharing instead of hoarding.
Let me know what you think of this set. And what your favorite husband convincing ideas are.