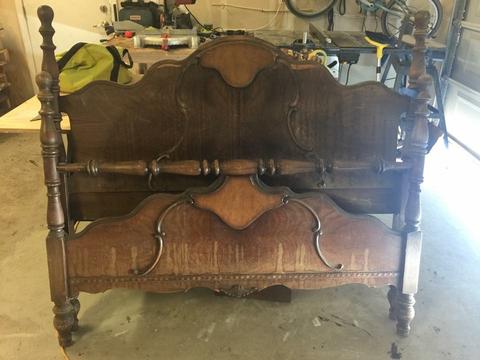 Building a headboard bench was the only thing I could think of when I found this
HOT MESS
 antique queen bed for sale.  It was one of my first upcycle projects. It really was love at first sight. I knew the headboard along with the footboard would come together to make a beautiful piece. Do you see it in there? My husband didn't…  I know, kinda rough, right?! But, oh so much potential.
Post contains affiliate links for your shopping convenience.
For the headboard portion of the bench it just got a good scrubbing with 50/50 vinegar and water mixture. It was filthy!!! It took a a 2nd scrub and a good rinse to get it to paintable condition.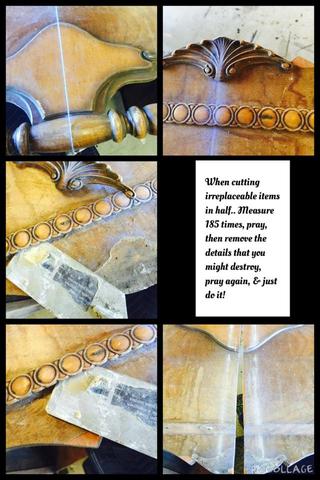 This bed had a gorgeous footboard that I cut in half to make the sides. I planned the cuts out a 100 times… so afraid I was about to destroy the footboard, & then finally I put it up on my sawhorses. I popped the detailed trim pieces off by wiggling a flat metal trowel under them lifting the old nails out. Then I snapped a chalk line down the center of the bed, and got out the my Ryobi One Circular saw. When it was in cut in half and still in working order I was so relieved!
 I propped the headboard against a wall to line up my cut footboard sides and plan out where I would be using my Kreg jig to add my pocket holes. I put pocket holes into the footboard and screwed it directly into the headboard. Then I made an interior frame to hold the mattress. I used a 1×5 in the front and back section, 1×3 on the sides. They were screwed together with pocket holes made with my favorite
Kreg pocket hole maker
.
 I could not function in the garage with out this tool! I then ran spare wood pieces across to support the mattress.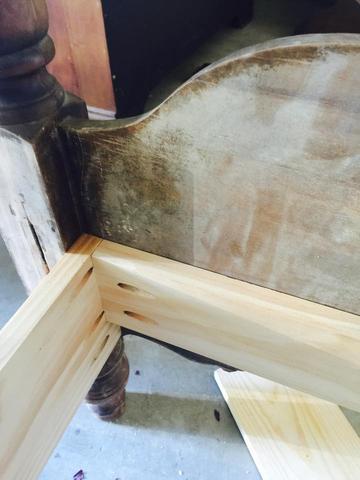 Once assembled and sturdy it was time to make it beautiful. One more quick wipe down with vinegar & water (just because it sat in the garage for a bit) followed by a rinsing wipe down of clear water, and then a just in case wipe down my my Magic Eraser. I use the magic eraser as a last step on most pieces. It really does help to make sue all old finish has been taken down.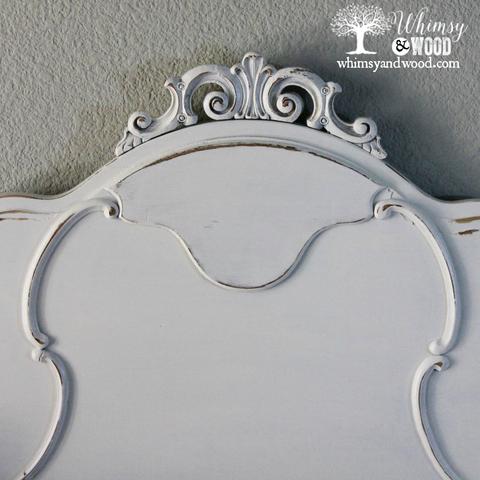 Headboard Bench lightly distressed and protected with our
Matte Top Coat
.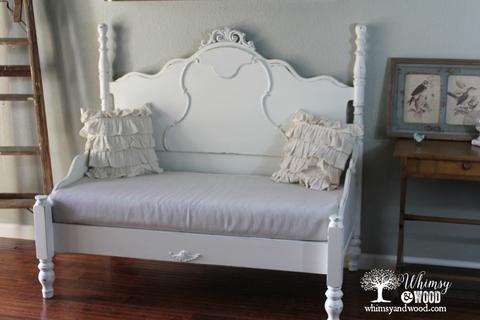 While I could have made a wood bench seat, I wanted comfort, so I had a custom upholstered cushion with removable cover made to fit the bench. Now it is a great place to sit and read while sipping your coffee, or chilling with your little monkeys.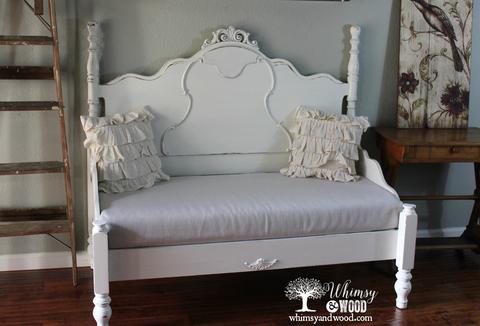 This piece is not intended to be a normal bed, but for toddlers on down it could serve as a place to catch a quick nap. The cushion is the same size as a crib mattress.
Hope you love the transformation as my as I do! Thank you for visiting!
Curious, where would you use this in your house?