Blog post contains affiliate links to products used & recommended. We only suggest things that we love!
At our house we do a lot of DIY. My youngest daughter loves making things, but most years her halloween costumes have been made up of only purchased items & her older sisters have been mainly hand made. This year the littlest is venturing out to cast spells as Hermione Granger from Harry Potter. She just turned 9 & has been devouring the Harry Potter series since she was first introduced to them about 6 months ago. Her first choice was Dhabi, but with a million and one things going on…I was not 100% on board with all the work that would go in to an authentic Dhabi…Maybe next year.
She decided next on Hermione, one of Harry's closest friends from Hogwarts. Amazon supplied most of our needed items. Skirt, Socks, Cloak, Tie, & Blouse. I had high hopes that I might make her cloak…and so I ordered an awesome patch from an Etsy vendor. But, then I realized that life would not allow learning to use the sewing machine this month. I did see opportunity for bonding with my girl and making her wand out of items we had on hand at home.
We started with a branch from a tree in our yard. It was already dry as we had been saving it to make fairy furniture out of. (I am sure that will be another blog post) Our tree is a weeping Birch and is covered in the beautiful white papery layers of thin bark. With a sander I removed the bark and got down the the smooth branch.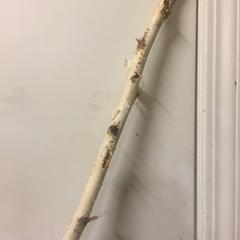 This left us with an awesome piece that was naturally bent & had some character to it. We used a hot glue gun and she laid on a winding pattern of ivy.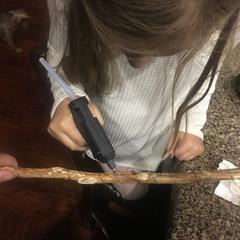 Next we used Kristi Kuehl Pure Home Paints in the color Bisque, and finished with one coat of sable glaze.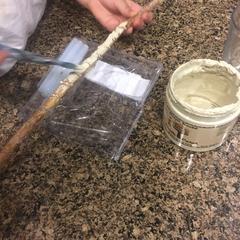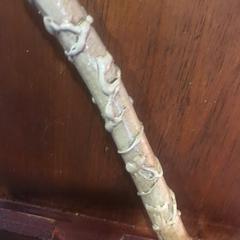 Her wand looks amazing, she loved making it & may have learned some new skills in the process. Best of all we spent some time together making memories. Hope you too make some memories this Halloween, that is what it is all about…that and candy of course.