Our Police Gratitude Project
When life feels messy and you don't know how to fix it, always start with gratitude.
This post is a little different from our normal projects. We took a timeout to make gifts for our local police department.
I remember when I was little I could tune the nightly news out. I was convinced my parents were pretending to listen to the newscasters' drone on.  I just didn't get it. I recall times where my Mom was so affected by the news and the things that were going on in the world that she would be visibly upset. She felt everybody's pain.
And, then I grew up. It seems she passed the empathy overload curse on to me. If you have pain, I will feel it & I may exhibit symptoms of your emotions. Whether you are a stranger on the street, a person on the news, even a character in a movie can be more than I can handle. Not a horror movie, but any trauma that can easily be imagined into the average person's life if things go sideways. I feel physically ill when I watch a movie that deals with drugs, real type violence, or any real-world pain.
Gratitude and Love Are The Best Ways to Cope
The only way to deal with feeling like these is to act out in positive ways. I try to see every person. It is shocking how much pain you absorb when you pause to make eye contact with people who sometimes would rather not be seen.
Long story short, I have deeply felt the pain & tension of the recent chaos. I have wept to see men lose their lives & have them broadcasted via social media like something being seen on a television drama. My heart ached with the stinging pain from the police lives lost when our law enforcement officers were targeted while doing their job. There are obvious signs of a community a nation in crisis in these stories.
I can only imagine what it is like to be on either extreme of these stories. I am not likely to ever be assumed guilty and dangerous because of my skin color or the neighborhood I live in. I also will never know the burden of showing up to work not knowing if I will be targeted because I carry a badge.
This tension could suddenly be felt everywhere.
I choose not to watch the news, I find the storytelling to be salacious and out of touch with reality. The problem is a large part of the world watches the new regularly and can be led to believe that we live in a dark place. If you identify with this at all I challenge you to turn off the TV and go out into the world. Visit with your neighbors, go to community events, and spend some time volunteering around people in need. There are many volunteer opportunities out there from senior centers to homeless shelters.
---
I live in a smallish city & I know the families of many of our local police officers. Our local Police department does a great job of connecting with the community. I knew that I needed to reach out to them & share my gratitude & let them know they had community support no matter what they were seeing on the news.
My idea started while driving to a random errand, I thought it would be nice to drop off some cookies and let our officers know that we see them, we appreciate them, and we trust them. As I sat with that the idea grew. It was fed by a post that came across my Facebook showing cruiser packs for cops. I loved the idea! I  checked with a friend who is also a local police officer's wife and learned that our local force had over 70 officers. I could see that this needed to be more than just me.
Fortunately, I have the best neighbor ever and she is very connected to our local West Sac Police Department & to our local community. She has become family since we moved to West Sacramento in 2008. She was so excited to be a part of this little project & we got to work. We solicited donations outside of public social platforms hoping to keep it on the hush since our city is so small & we wanted it to be a surprise.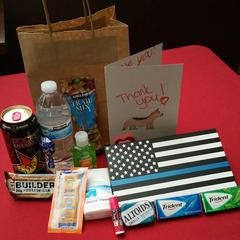 We were able to collect over $1000 in donations for our little project. That is huge! My neighbor had the great idea of purchasing "Thin Blue Line" flags for each officer and we needed 75. We came in at a little half our goal. I decided that Whimsy and Wood would contribute 75 hand-painted flags in their place. Sometimes it seems we have more time than money. We got to cutting, sanding, and painting. I even had some family members drop in from out of town that found themselves picking my star stencils off the painted boards with me. FYI 75 flags= 3,750 individual stars… Thank you, family, & I hope I don't keep you from dropping in again:)
My neighbor shopped like Santa for a week & we were able to pull together energy drinks, bottled waters, meal bars, gum, mints, hand sanitizer, tissue packs, trail mix, suckers, chapstick, sunblock. We included the sentiments from our donors, letters from local children, our thin blue line flags, and a very special bracelet made by a local young lady named Leah who has started a community kindness project where you do good for others by sharing a bracelet or a good deed and continue paying it forward. (
You can see Leah in action here.
)   I am sure we will see Leah doing big things in her future. My super thoughful neighbor also had the great idea of including our 2 K-9 officers.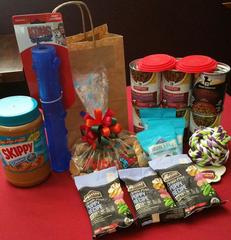 Our local Petco donated canned dog food, & dog treats. Brenda purchased some sturdy toys for these K9 officers. She really is just that thoughtful!
We rounded up our kids and volunteers to help stuff the gift bags and headed over to the Police Department to hand them out.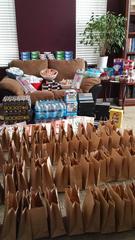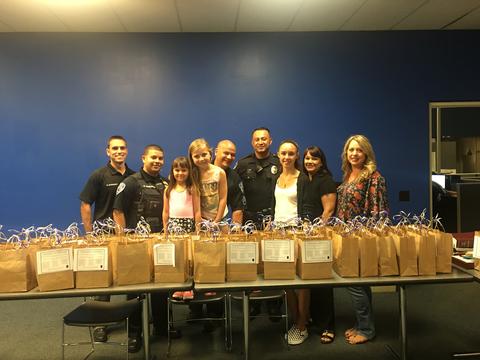 These officers thanked us a million times for thanking them. It is impossible to do good without getting that good right back! It is also amazing how quickly you can grow your do good ideas when you invite others to join forces with you!
Brenda and I have teamed up on a few projects of spreading love, kindness, and community. We use the hashtag #westsaccares. We invite you to spread good! West Sac locals share with @westsaccares on facebook & use #westsaccares. If you are not local, start your little community care project & please create your own # and also share with us on ours, we are excited to see all the good being done in our world! We need an outlet for the positive. We are the good, we are the change, we are all the same, we are love, and we all matter.