Our Blog posts may contain products we retail, and affiliate links. We only recommend products that we love.
What's in a name? When I googled Secretary Desk I learned that an alternate name is an escritoire
Escritoire, fancy right? Secretary desks are often on the fancy side (especially with a paint update) but they carry a name that sounds, well, basic. I think I might start listing them as escritoires.
This Secretary Desk has definitely been given a new lease on life! When I first picked it up it was looking a little rough, but the wavy design on the doors was too much to resist! We found it in a warehouse while we were picking up other items. We were lucky that our new friends were able to hold it for us until we could make the 45 mile trip back. Thank you! As you can see, she was worth the trip!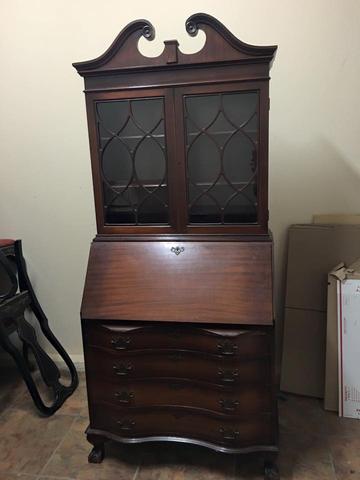 It did not take me long to pick the color. I love greens! And this piece was begging to be coated in our PHP Dusk colored paint! But I also loved the existing Mahogany finish. I was able to update it with a light scuff sanding and 2 coats or our PHP Mahogany Stain. I did NOT sand the original finish off! I chose to keep some of the dings in the desk surface. To me they tell a little bit of the story. New hardware can be fun, but in most cases I stick with the original Vintage hardware & just fix it up with a good cleaning and PHP Hardware Opulence. I used Bronze Opulence on these & they look amazing!