Red almost seems like neutral in painted furniture.
Red, I know it can feel risky, but red is such a strong color it can pull you out of a funk! Think Target, they all wear red doesn't your mood elevate right when you walk in? Especially if they have a Starbucks inside… Tell me you disagree? Recently I picked up the most amazing shade of red lipstick and I swear I have considered wearing it everyday! It brought my look up in an instant.  Nothing like jeans a t-shirt and a fabulous red lipstick when you run to Target for the basics. Red is a power color that can offer instant energy and can be blended into many decor styles.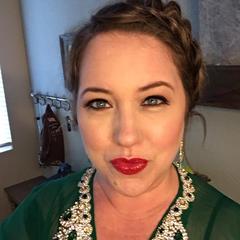 Isn't this a FAB color! And would you agree it would be appropriate for running to the market?!?! (Lipsense Fly Girl)
A punch of red can elevate the energy of a room and feed that same energetic passion to the the space. It may feel safe to go neutral when faced with indecision. But, I tend to go bold & red is so loved that it is always a winner!
The desk before the red
I picked this desk up from a man who said he had inherited the desk from his grandmother. He was downsizing and didn't have the space for it in his new place. This style and construction of the desk suggest it
was made
in the late 1800's. It is an Antique American Breakfront desk. The front drops down to provide the writing surface. The interior has drawers, slots for files or books, and fabulous cubbies for storage.
*Post contains affiliate links to products that I used on this project. Affiliate links appear as the blue letters throughout the post. Click them to find out more about the tools and products I used.
Great style, and a functional work space that closes up when you

are done

working. Remember to challenge your idea of what a piece is for. This desk works great in an entryway, at the end of a hallway, or blended into a room. Painted furniture is functional art.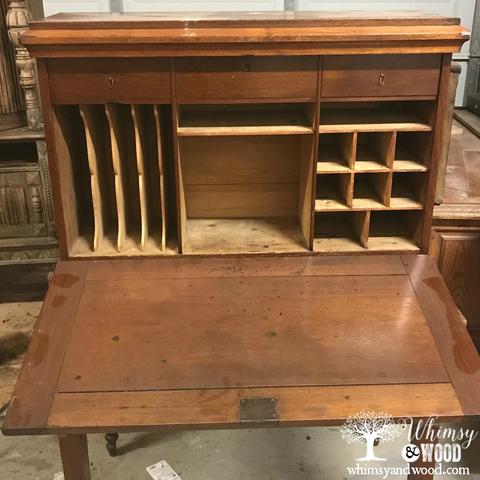 To
satisfy
my need for a bold gorgeous color…Have you guessed what color I used? Yep, I chose purple,
just
kidding I went with the red & used distressing to keep the character of it's age.
This desk is a true antique by age. Dents and dings tell her story so we kept them. I only repaired a long crack that ran down the full side of the top hutch; that type of break is less romantic.
For the repair, I matched the pieces up. It was a straight clean break which definitely helped. I wanted to make sure the repair stood up to it's next 100 years. I used my
Kreg Mini
,
which is a go to when repairing pieces like this. If looking for go to tools for your shop the  
Kreg jig
is a must have! If you cannot afford the full set, the mini can still get many jobs done. The mini came with my set. I popped the mini into place lined up with the edge of my split board & drilled in my pocket hole.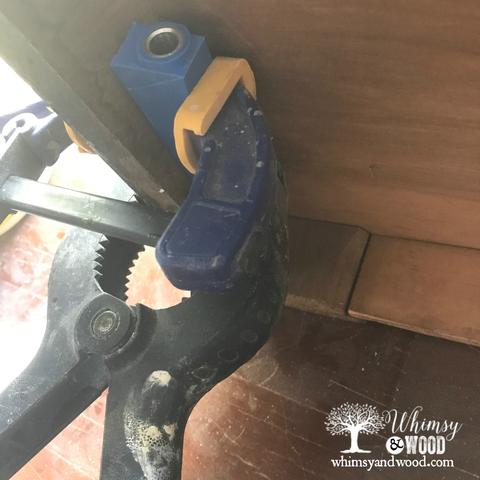 Clamping the repair
Next I opened the split up and pumped my favorite
wood glue
into the crack from top to bottom. Pushed my pieces back together & clamped in several spots and directions. If you have spent any time here you know how much I love my
Irwin clamping system
. They make wood working solo a little easier. With their trigger that tightens and loosens the clamp one handed. Don't even get me started on the accessories that make them even more amazing.  With the clamps in place and the wood lined up pretty well, I was able to insert the pocket hole screw.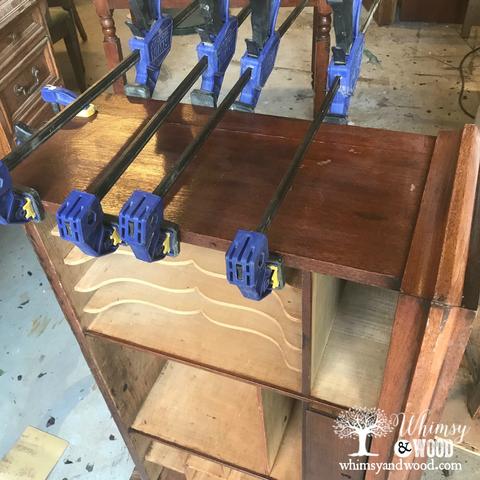 I let this section dry overnight while I began painting my desk base. The next day I sanded my repair glue joint using 120 grit sand paper and my random orbital sander. This process is to remove any glue and blend my seam. This seam was very tight & did not need any wood filler. If you ever do a glue up & need to fill any gapping you can use a wood filler to strengthen & blend your repair.
Time to Paint
Now for the sexy part! I used our
Razorback 
Red
by Pure Home Paints. This red is gorgeous and depending on the glazes used over it can create some very different results. On it's own I sense a bright red with an orange undertone. When I added our
Ebony Glaze
, also from Pure Home Paints, it took on more of a scarlet shade. I love red, but I wanted to lessen the intensity of the work space and create some balance. I chose
Storm
which is a very neutral greige.
The cubbies were a bit of a pain to paint! I am 5'10" tall & that equals hands that are proportionate… My ever helpful assistant Becca asked if she could help at just the right moment. She is 9 & her hands are great for getting into those cubbies. When her stamina ran out, I resorted to using a sponge with paint on it to get inside the narrow file slots. I always love these desks until I get the the cubbies and slots!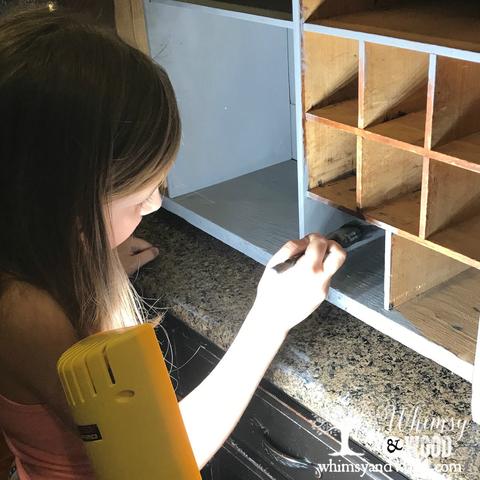 I love how often this girl appears in this blog! Being able to work with my kids is such a blessing!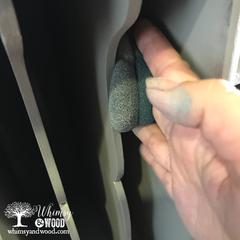 Are you loving my manicure? Paint dipped, it's the latest thing…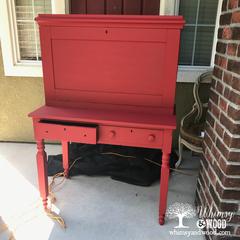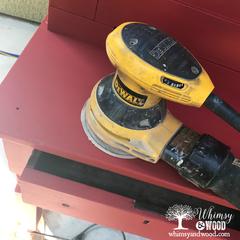 Distressing
I always do my distressing after the paint sits just a bit, but before it gets too hard. There are many ways to sand, but when I am going for all edges and a little more beaten up, I find the Dewalt random orbital to be the best fit.
Once my base coats dried, about 15 minutes on my final red coat, I got out my random orbital sander. I distressed the edges and used it to eat away some of the paint on the flat desk front. This desk has simple lines and the distressing helped give it some depth.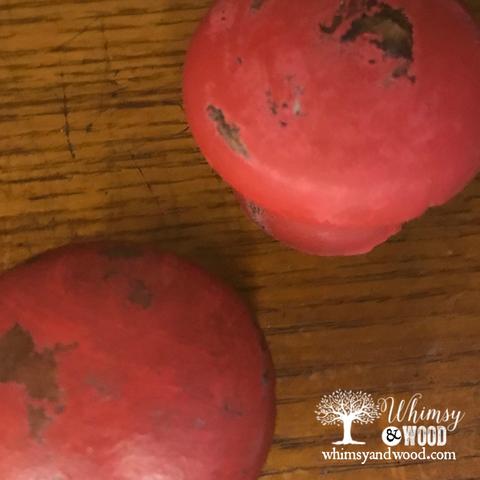 You can see the difference the glaze makes here. Knob on the upper right is unglazed, knob on the lower left has ebony glaze. 
As I noted earlier, I finished the desk off with our Pure Home Paints glaze in Ebony. The glaze works as one layer of top coat protection for the paint. I was happy with the color after one coat & finished the piece by adding a final Top Coat layer with our Matte Protective Finish. Depending on the look you want, you could add a second layer of Ebony Glaze instead of the clear Matte layer. I like to always have at least 2 layers of protective finish. Every time I use Razorback Red I just find it to be so drool worthy. I just know that her next owner will be able to create magic while working with her as a muse.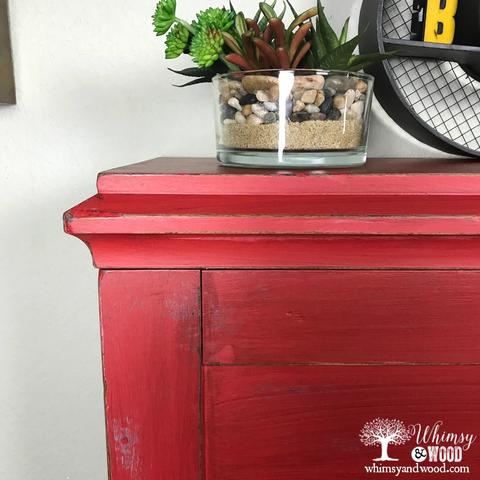 I just love everything about this picture!!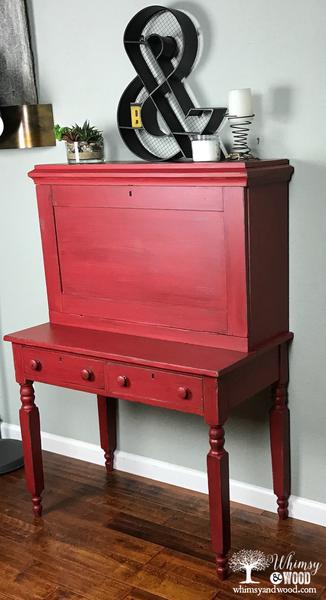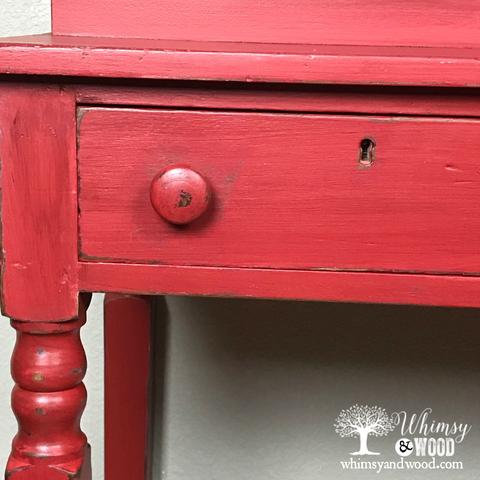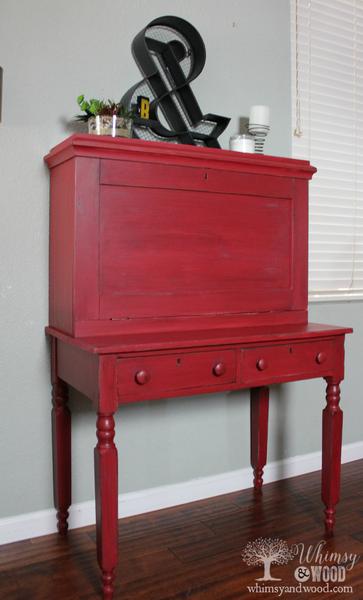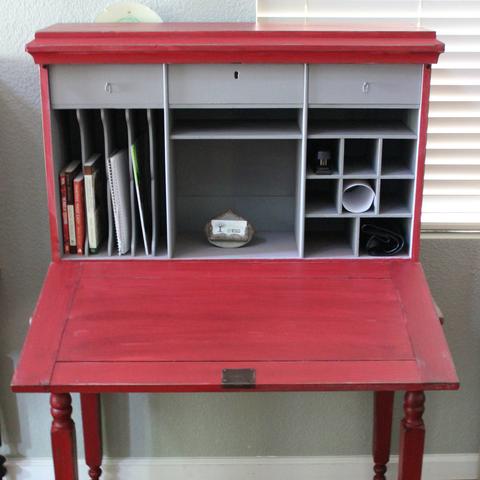 Thank you for taking the time to stop in! This Red Desk is available for purchase here.
You MUST go check out what my talented friends have been up to this month. I learn so much from them & just love being able to share similar passions!
Some drab "Before photos", you must head over and see their Afters! Links below this image.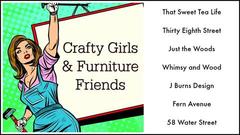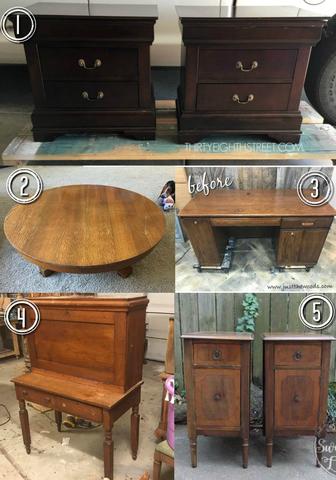 1.Thirty-Eighth Street–How To Transform Second Hand Furniture Easily
2. 58 Water Street–Reviving a Craftsman Pedestal
3. Just the Woods-How to Love Your Furniture when You Hate the Color – Desk Makeover
4. Whimsy and Wood-When in Doubt, Go With Red!-Desk Makeover

5. That Sweet Tea Life-Trying Out Wise Owl Chalk Synthesis Paint